Moscow: Basic Things You Need to Know Explore Stalin-era skyscrapers, noisy parks, bars serving infusions, and ancient convents all in one city
Moscow is an uncatchable city. Journalist Jury Saprykin once wrote, 'Moscow is easy to recognize; it always has a new general construction plan, there is demolition of blocks and cutting through for new streets, freshly dug construction pits and new buildings still in progress, and finally, a pavement protected with the notorious green-and-white fencing.' There is a middle-of-19th-century Moscow, a staid city with village-like buildings. There is a beginning-of-20th-century Moscow, a European-type cosmopolitan center filled with multi-storey tenement buildings. There is an early-Soviet Moscow, already a capital of another state, with the most modern, avant-garde architecture of the time and swarms of people filling narrow streets. There is a Stalinist Moscow, an imperial city exhausted by repressions, buttoned up, full of skyscrapers and Roman motives. There is a Moscow of the Thaw, with its still brand-new bedroom suburbs, the Palace of Young Pioneers and pavilion-cafes with beer and dancing. And so on, and so forth. Luckily, nothing was lost without any trace, and sometimes tiny pieces of all these eras can be found in one street. Just look out for them.
Places of Interest: An Obligatory List
Moscow is a huge city. In terms of the territory, it is 20 times as big as Paris and 1,5 times as big as London. However, most sights are located in the small historical center. Here are some that can't be missed.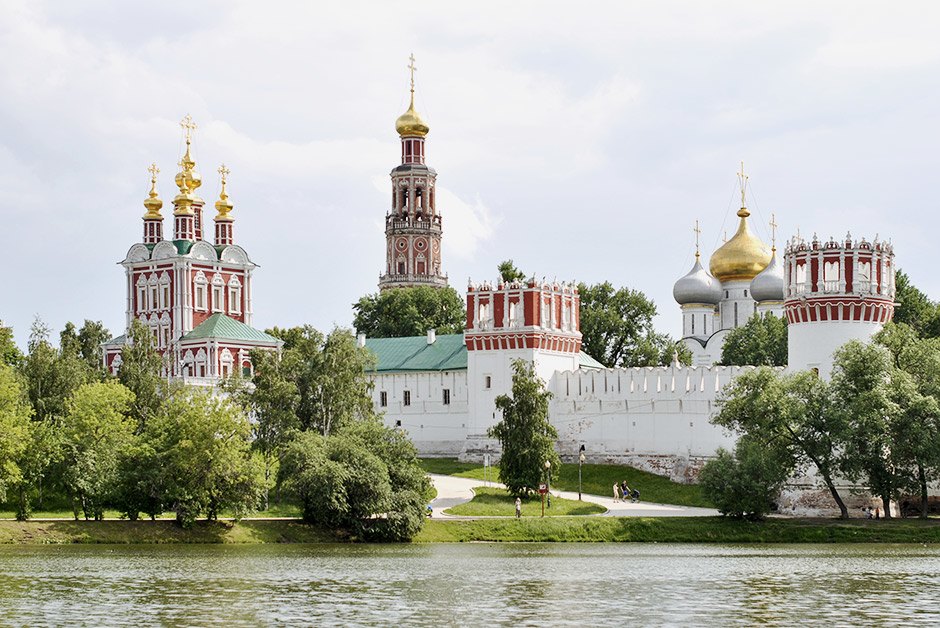 The Moscow Kremlin
The symbol of Moscow and Russian statehood as a whole has Italian origins. Twenty brick towers and the walls connecting them were built at the end of the 16th century by Italian architects. You can see that: the style reminds of Milan's Sforza Castle or Verona's Castelvecchio. Inside the fortress, you'll find a number of convents, cathedrals, churches, and palaces that show a long history of Russian architecture starting from the 15th century (Uspensky cathedral) to the 20th (Kremlin Palace of Congresses). Following the Soviet tradition, the entry to the Kremlin is, unfortunately, limited. The USSR is long gone but the regime is not planning to leave its fortress any time soon.
Red Square
Overpopulation became Moscow's problem from its very beginning. By the 13-14th century Kremlin was already too small, and people started to settle around it. To protect them, in the 15th century another wall was built: Kitaygorodskaya. The space between the Kremlin and the new neighborhood that was called Kitay-Gorod (literally 'China-town') and became the city plaza. Later it will be known as Krasnaya (= red), meaning 'beautiful'. It was a place for prayer (Vasily Blazhenny cathedral), execution (Lobnoe Mesto), trade (GUM), eating, drinking, and even medical treatment: it was here that Peter the Great opened the first drugstore and the first restaurant. In the 20th century, it also became a necropolis: first, the Bolsheviks killed during the Revolution were buried here, then a mausoleum was built for Lenin. Stalin, too, found his final resting place at this necropolis and after him — many other Soviet leaders and heroes. But the genius loci is still there: the place is full of life, even though mainly through tourists and sometimes certain performance artists.
Tverskaya street
The city's main street that goes all the way from the Kremlin to the Belorussky railway station; Unter den Linden of sorts, but the lindens are less impressive and there is no terrace. First it was narrow but right before the Second World War it became a kind of a display-window of Stalinist Moscow and the whole Soviet Union in general, and had to be considerably widened. The most important monuments were kept, however; the Russian Revival style monument called Savvinskoye Podvorie was even moved deeper into the block using rails. The best bars and restaurants, by the way, are off-street, not on the Tverskaya street itself. Pushkinskaya Square with its famous monument to Russia's favorite poet Alexander Pushkin, located exactly in the middle of the long street, is not just a pleasant small park but a place with a long protest history. It was here where the first opposition rallies in the post-War Soviet Union took place in 1965. It is also here where the multi-thousand manifestations against the current regime take place today.
The Cathedral of Christ the Saviour
Yes, yes, the notorious Pussy Riot Church. A replica built in 1997, it was meant to replace the original cathedral demolished in 1931. The place was allocated for the enormous Palace of the Soviets with a one hundred meters tall monument to Lenin on top. However, only the groundwork was done. For almost thirty years the construction site was abandoned. In 1960 it was turned into an open swimming pool that survived until 1994 when it was demolished, and the cathedral building was rebuilt.
Gorky Park
The most famous park in Moscow, named after the Russian and Soviet writer Maxim Gorky. The park currently consists of four virtually independent parts. The first one is Museon with the new Tretyakov Gallery building, an open-air museum of old Soviet-era monuments, and Krymskaya Embankment. Then the Gorky Park itself with its luxurious entrance, Pioneer Pond and Garage Museum of Contemporary Art, the most affluent private contemporary art gallery in Russia. Then goes the quiet Neskuchny Garden with the Golitsyn residence. Finally, there is Vorobyovy Gory (Sparrow Hills) park which locals call a forest in the center of Moscow.
MSU
Another postcard-symbol of the city, the highest of the seven Stalin's skyscrapers: the main building of the Moscow State University. A perfect vantage point, the location had always been considered ideal for an emblematic structure. In the 19th century, it was one of the options for the Christ the Saviour Cathedral; in 21st, for the monument to Vladimir the Great. The first idea was opposed by nature: the hill was not fit for an edifice that had a risk of slowly sliding into the river; the second was opposed by a surprisingly unanimous local community. Ironically, both projects were completed and are now located in 600 meters from one another. The Soviet regime, however, was humbled neither by citizens who wouldn't have spoken up anyway nor by nature that was conquered by moving the building further from the river. So, the dream of the cathedral was replaced by the cathedral of science.
The Novodevichy Convent
The ensemble was built in the 16-17th century and in 2004 was added to the World Heritage List as a unique example of the Russian Baroque style. Besides more than a dozen of architectural monuments, it is known for its three cemeteries where the Russian elite of the last four or five centuries has been buried. The convent is surrounded by a nice park with a pond.
Transport
Considered not only one of the most beautiful in the world, Moscow subway is also one of the most practical. The system of buses, trolleybuses, and trams is not as well-developed; on the bright side, the fare is low and it is easy to pay using the same card. Bike rentals and taxis services are also well developed.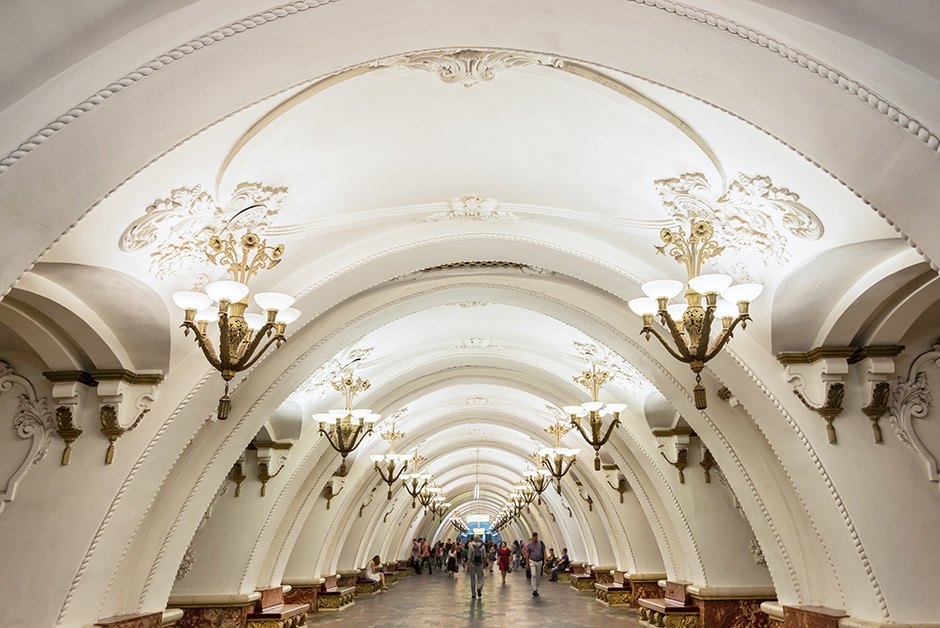 The Troika card
Buy it the first time you use the subway. The Troika (meaning a three-horse carriage) card is sold only at subway stations and is used to pay for all means of public transportation except for suburban trains. It works for the subway proper, the city train called Moscow Central Circle with one circular line (a local variation of Berlin's S-Bahn), buses, trolleybuses, and trams. The most convenient option is to put 1000 RUR on the card via a stuffed counter or a ticket machine; you'll be set for 27 trips meaning that each trip will cost you 36 RUR. To save some money, you can prepay 60 trips; it will cost you 1765 RUR, or 29 RUR per trip.
Apps
There are a lot of mobile apps you can use to plan your route, among them Google Maps, Yandex.Maps, 2GIS, Yandex.Transport. The most universal one is probably the one called Citymapper: with it, you can plan your route whether you are going on foot, using public transportation, commuting with a bicycle (even if you are using Velobike rental service), driving or taking a taxi. It also takes into account traffic jams and closed streets.
Subway
The title of one of the most practical subways in the world is well-deserved: the stations and the lines of the Moscow subway are closed only as a rare exception, the fare is considerably lower than elsewhere in Europe, there are no zones like in Paris or Berlin, and the trains come every 3-4 minutes. While it is true that the layout requires some getting used to, the stations are too far away from each other and the whole thing is closed at night, these details are not as important. What is important, though, is to remember to take the right side of the steps when using the escalators: the left side is traditionally reserved for those who are in a hurry.
Working hours: 5:30 am to 1:00 am.
Fare: 36 RUR when using the Troika card or 55 RUR when using a one-trip card
Buses, trams, trolleybuses
A long time ago city managers considered subway to be the principal means of public transit so bus, trolleybus, and tram lines are developing far slower. However, in latest years, bus and tram fleet was renewed and several new lines connecting the city center and the suburbs were added. Whatever the vehicle, you have to get on through the first door which is equipped with a ticket barrier; use your Troika card or a one-trip card to open it. If you travel with a baby stroller or a bike you can enter through the middle door, but still, don't forget to validate your ticket. The driver usually sells cards for one or several trips but it will cost you more than the usual Troika fare, and on top of that, you can only pay cash.
Fare: 36 RUR when using the Troika card or 55 RUR when using a one-trip card
Bike rental
There is only one bike rental system in Moscow, an automated one like Bicing in Barcelona or Vélib in Paris. This year its network reached 430 stations and 5 thousand bikes which sounds like enough. A bike is perfect for a short rides around the city center when a walk is a bit too long to go by foot and waiting for the bus or going to the subway station will take too much time.
Fare: Bike rental costs 150 RUR per day, 600 RUR per month or 1200 RUR for the whole biking season (until October 31st). The fare allows for an unlimited number of rides under 30 minutes; for longer rides you'll be charged an extra. For example, for a one hour ride you'll have to pay additional 30 RUR, and for two hours extra — 100 RUR. During the FIFA World Cup 2018, from June 14 to July 15 to be exact, a special fare is offered: it includes an insurance, and the included rides are extended to an hour.
Taxi
The most popular taxi services in Moscow are Uber, Yandex.Taxi and Gett. The prices are more or less the same: a ride within the historical center will rarely cost more than 500 RUR.
Commuting at night
Almost all public transport shuts down at 1 am. After that, only taxi, bike and night buses are at your service. These latter are not numerous: there are only ten lines that start at the Kitay-Gorod subway station and end in the suburbs. Depending on the line, you'll have to wait 15 to 30 minutes for a bus. One of those night lines, H1, is the cheapest and fastest way to get to Sheremetyevo airport.
You can check night buses' schedule and routes here.
Grocery Stores and Markets
In Moscow, you can find almost all largest Russian and some international supermarket chains, small independent stores, local food markets with or without food courts and weekend markets.
Grocery stores: cheap ones
The most popular supermarket chains in Russia are low-priced ones: 'Magnit', 'Piatyorochka', 'Dixie', 'Auchan' and 'Atak' (which is Auchan's subsidiary). You'll find one of these on virtually any street in any neighborhood outside the city center. The selection of products depends mostly on the store's size but in any of them, you'll find food, alcohol and household products of basic quality. Some of the stores have their own bakery and kitchen offering simple salads, soups, and hot meals.
Grocery stores: regular ones
In the center, you are more likely to see stores of other chains: 'Magnolia', 'Billa' (the local subsidiary of the German Rewe), 'Perekrestok'. They are a bit more expensive (sometimes unreasonably) but the selection is larger: they offer more fresh vegetables and fruits, more types of meat and cheese, more ready meal choices and more imported products. Almost all of them have a kitchen to fit every taste: for example, 'Magnolia' offers more snacks of the spring-roll type. Another chain loved by many Moscow residents is 'Vkusvill'. It attracts with its quality: almost all products are house-produced which basically means better quality. Also, 'Vkusvill' offers almost restaurant-level ready meals. Prices are not much higher than in other chains but this one has fewer stores.
Grocery stores: expensive ones
'Globus Gourmet', 'Azbuka vkusa' and 'Bahetle' are also concentrated mostly in the city center. These offer much more imported products so the prices can seem shocking. Good ready meals and a wide selection of alcohol offer some consolation. In Tverskaya street, there is also a very special store called 'Eliseevsky': it's the only grocery store in Moscow that kept working through the revolution and the years of the USSR. The interior is worth seeing, and this somehow explains ridiculously high prices, but the selection is mediocre.
Markets
Every neighborhood in Moscow has its own food market; yet there could have been more of them in the center. Some are recently renovated. On the top of the line is probably Danilosvky market. Its main attraction now is a food court where you can find crabs, meat, pho soup, pelmeni (Russian dumplings), khinkali (Georgian dumplings), sandwiches, burgers and more. If you don't like waiting in line (and lines here are remarkable) choose the less pretentious Rogozhsky market: pizza and pho here are not any worse. Such markets also offer fresh vegetables, fruits, fish, cheese, and meat but these products can be noticeably more expensive than in supermarkets or at weekend markets.
---
---
Where to drink
You are not allowed to consume alcohol in Moscow streets, there is a small penalty for that. Not everyone complies but it's better not to take any risks and to go to a bar.
Address: Starovagankovsky lane, 19
Open: Sun-Thu: 4 p.m. to midnight;  Fri-Sat: 4 p.m. to 2 a.m.
Average bill: 800 RUR
Moscow's best craft beer bar, and in a 5 minute walk from the Kremlin, too. They offer 27 varieties on tap; bottled ones amount to hundreds. Listen to some punk-rock and enjoy peanuts, nachos or beef jerky with your beer. If you want something more substantial, you'll have to go elsewhere; for example, to the vegetarian cafe 'Ugol' [Corner] next door.
---
Where else to go for craft beer: Dogma Bottle Shop, 'Sosna i lipa', 'Enthusiast'
Address: Tverskaya street, 23/12
Open: Mon-Wed: 8 a.m. to 3 a.m.; Thu-Sun: 8 a.m. to 6 a.m.
Average bill: 1500 RUR
An art deco style bar that offers classic cocktails and food. May seem smallish, but on the other hand, has a very nice terrace. One of the best places in the city's main street, Tverskaya, whether you are having breakfast, lunch or dinner.
---
Where else to go for cocktails: 'Voda', Veladora, Delicatessen
Grand cru by Adrian Quetglas
Address: Malaya Bronnaya street, 22
Open: 10 a.m. to 11 p.m.
Average bill: 2500-3500 RUR
A posh wine bar with a focus on contemporary cuisine. Malaya Bronnaya is the central street of the Patriarshie Ponds area, known as the most bourgeois neighborhood of the city. Come here for a great selection of wines and signature dishes by their Spanish chef Adrian Quetglas.
---
Where else to go for wine: Big Wine Freaks, 'Vinny bar 13°', I Like Wine
Address: Nikitsky boulevard, 12
Open: 10 a.m. to 6 a.m.
Average bill: 1000 RUR
A bar offering nastoikas (infusions). The best one is Calvados with herbes de Provence. The bar has a terrace but it's better to have a seat in the back room. The room itself is an installation by the architect Alexander Brodsky: it is always full of the sounds of the sea (in Russian, proliv means "sea channel"). The prices are affordable.
---
Where else to go for infusions: 'Cultura', 'Balalaechnaya', 'Unost'
Museums
A famous TV host and museum enthusiast Leonid Parfenov gives an advice: it's best to visit no more than just one museum per day and to spend no more than four hours there; otherwise, you become less perceptive. Among more than 400 museums in Moscow, we've chosen the ones that are worth spending four hours of your day.
Garage Museum of Contemporary Art
Address: Krymsky Val street, 9 bld 32
Open: 11 a.m. to 10 p.m.
Ticket: 300 RUR
A contemporary art gallery that belongs to the Russian magnate Roman Abramovich and his ex-wife Dasha Zhukova. What looks like just a few rooms in a small building (former 'Vremena goda', or Four Seasons, the cafe reconstructed by Remment Koolhaas) is actually one of the most important 'contemporary art places' in Russia. There is no permanent display but all exhibitions, even not the most exciting ones, are made the best way possible; you won't spend time and money for nothing. The museum has a cafe, a bookstore, educational spaces and a children's room.
---
Upcoming exhibitions: Infinite Ear (June 8-September 2), "Did You Have a Good Time?" Vremena Goda Café since 1968 (June 8-September 2), Juergen Teller. Zittern auf dem Sofa (June 8-August 19).
The New Tretyakov Gallery
Address: Krymsky Val street, 10
Open: Tue-Wed: 10 a.m. to 6 p.m.; Thu-Sun: 10 a.m. to 9 p.m.
Ticket: 500 RUR
The ideological predecessor of Garage is about a kilometer away. This branch of the Tretyakov Gallery's is dedicated to the 20th-century art. This building, by the way, is also going to be reconstructed by Remment Koolhaas. The New Tretyakov gallery presents the most important works of the leading Russian avant-garde artists: "Black Square" by Kazimir Malevich, "Over the Town" by Marc Chagall, "Bathing of a Red Horse" by Kuzma Petrov-Vodkin, "Peacock in bright sunlight" by Natalia Goncharova. Here you'll also find classic artists of the cusp of the 19th and 20th centuries (Viktor Vasnetsov, Ivan Shishkin, Valentin Serov; Serov's personal exhibition in 2016 caused record-breaking lines) and classic artists of Socialist Realism (Aleksandr Deyneka). Contemporary art is also present; this summer the gallery is hosting such exhibitions as The Art of the 2000s and New young artists in the New Tretyakov Gallery. Gift of Vinzavod.
---
Current exhibitions: Vasily Vereshchagin (March 7-July 15), Vadim Kosmatschof: Breathing Sculpture (May 17-August 19).
The Pushkin State Museum of Fine Arts
Address: Volchonka street,12
Open: Tue-Wed, Sat-Sun: 11 a.m. to 8 p.m.; Thu-Fri: 11 a.m. to 9 p.m.
Ticket: 300 RUR (the main building), 600 RUR (the main building plus the Gallery)
The museum was created for students to study the history of the world art. The main building resembling an Ancient Greek temple is filled with casts and copies of the architecture and sculpture masterpieces: Ancient Greek Discobolus, Michelangelo's David, the posticum of the Parthenon, and a portal of a German Gothic temple to name just a few. The collection includes Botticelli's paintings and Albrecht Dürer's engravings.
The most interesting exhibit is presented in another building, right next to the main one. At the end of 19th and the beginning of 20th centuries two greatest Russian art collectors, Ivan Morozov and Sergey Shchukin, began to collect the works of Van Gogh, Picasso, Cézanne, Renoir, Gauguin, Monet, Matisse, Rousseau and others before the world even realized how precious they were. The wonderful exhibition in the Gallery of 19th and 20 century European and American art is now based mostly, but not exclusively, on their collections.
---
Exhibitions: Age of Rembrandt and Vermeer. Masterpieces of the Leiden Collection (March 28-July 22)
Address: Lavrushinsky lane, 10
Open: Tue-Wed, Sun: 11 a.m. to 6 p.m.; Thu-Sat: 10 a.m. to 9 p.m.
Ticket: 500 RUR
One of the largest collections of Russian art from the 11th to the beginning of 20th century boasts of more than 1300 pieces. Don't climb that mountain alone: you could use a little help from an audio guide (350 RUR in Russian, 500 RUR in other languages, your ID is required as a deposit). That way, a bunch of endless meaningless rooms will turn into a starightforward history of the Russian art during the last five centuries.
---
Exhibitions: Pictures of Russian History (February 23-June 22), Karl Bryullov. Portraits from a St. Petersburg private collection (January 24-June 24)
Address: 1 Samotechniy lane, 9 bld 1
Open: 11 a.m. to 7 p.m. except for Mondays and the last Friday of the month; Tuesday 12 p.m. to 9 p.m.
Ticket: free
A museum that helps to reconsider the history of Stalinist repressions. The most important rooms will be closed till October for a renovation, but until June 15 you can catch a free exhibit called "Evidence: a folder with sketches." At least pass by the building, it is a curious thing to see: covered with copper, it is supposed to become black with time.
---
Exhibitions: "Evidence: a folder with sketches" (until June 15)
Going outside the city
Moscow is surrounded by towns and villages as old as the capital itself. It is worth to see their museums, churches, convents, and mansions — large country houses belonging to Russian aristocrats that usually formed villages around them.
Art Park "Nikola-Lenivets"
The biggest art park in Europe, with its 2,3 square miles of fields and forests featuring art installations and constructions created by contemporary Russian architects and artists. The best known one is the white wooden construction with many doors called Rotonda and built by Alexander Brodsky.
The best way to reach the park is to take a bus from Tyoply Stan subway station in Moscow to Kondorovo. You can stay overnight: rent a hut, a bed at the local hostel or one of the already pitched tents equipped as simple hotel rooms.
Leninskie Gorki
The last years of his life the leader of the Russian revolution spent in the "Gorki" (meaning hills) estate that was turned into a museum after his death. Before the revolution, the manor house belonged to Zinaida Morozova, the widow of philanthropist Savva Morozov. Yet the most curious thing here is not even the neoclassical mansion itself, but the Lenin museum that was built four years before the collapse of the Union. Its architect, Leonid Pavlov, called the construction 'my Parthenon,' but this is an understatement: unlike the Ancient Greek edifice, anything like this temple of a non-existing religion (after all, what was the communism if not a religion?) is very unlikely to exist anywhere else in the world. The ticket costs 600 RUR. You can get to the estate from Domodedovskaya subway station by buses 496 and 439 (the stop you need is called "Gorki-1").
Sergiyev Posad
This town is known for the Trinity Lavra established by St. Sergius of Radonezh in 1337. The monastery is one of the most worshipped sanctuaries for Orthodox Christians and one of the most impressive examples of Russian architecture and art. Also, well-preserved old wooden houses still stand around the monastery and along the central street of the town, the Red Army avenue. You can reach the town by a suburban train; take one at Yaroslavsky railway station and go to Sergiyev Posad or Alexandrov.
New Jerusalem
The place has nothing to do with Israel. Its history started in 1656 when the Patriarch of the Orthodox church of the time, Nikon, founded a monastery here. The idea was to recreate the holy places of Palestine. He wasn't able to complete the project but the monastery is very beautiful. Recently a decent museum under the same name, New Jerusalem Museum, was opened next to it. This summer, until August, it hosts an exhibition called "The Age of Dürer. German graphics and painting of the late XV - the first half of the XVI century." To get to the monastery and the museum, take a suburban train from Rizhsky railway station and go to Istra, then take bus 32 or 33 and get off at the stop 'Teplitsa' [Greenhouse].
---
Tourist information centers
– Tourist Center at GUM store;
– Tourist Information Center on Triumfalnaya Square;
– Tourist information center in the park "Zaryadye";
– Tourist information center near the Cathedral of Christ the Savior.
Phones: +7 (800) 220-00-01; +7 (800) 220 00 02; +7 (495) 663 13 93
Moscow Tourist Sites:
DOWNLOAD offline route around Moscow for MAPS.ME
---
Читайте также:
Things to bring from a trip to Russia
If you are familiar with Gosha Rubchinskiy, this guide is for you
Things to bring from a trip to Russia
If you are familiar with Gosha Rubchinskiy, this guide is for you
St Petersburg
Palaces, islands, cathedrals, bar-hopping areas and bridges — in Russia's northern capital
St Petersburg
Palaces, islands, cathedrals, bar-hopping areas and bridges — in Russia's northern capital
Things to bring from a trip to Russia
If you are familiar with Gosha Rubchinskiy, this guide is for you
Things to bring from a trip to Russia
If you are familiar with Gosha Rubchinskiy, this guide is for you