Yekaterinburg The industrial capital with a rich cultural background
Yekaterinburg (sometimes alternatively romanized as Ekaterinburg) is the home city of Russian Federation's first President, Boris Yeltsin, and an important industrial center. Its historical center and suburbs are worth studying if you are interested in the history of the industrial architecture. The city is the fourth biggest in Russia — after Moscow, Saint-Petersburg, and Novosibirsk, and one of the richest. Located exactly on the border between Europe and Asia, it borrows the best from both, the high point of the symbiosis being Uralsky pelmeni (a local variation of the Russian ravioli).
The World Cup matches will take place here on June 15th, 21st, 24th, and 27th. The Central Stadium reconstructed and temporarily renamed into the Ekaterinburg Arena will host games Egypt vs. Uruguay, France vs. Peru, Japan vs. Senegal, and Mexico vs. Sweden. After the reconstruction, the stadium's capacity grew up to 35,000. The Village published a detailed account of the neo-classical Stalinist monument renovation that took place before the World Cup.
Sightseeing
The city center of Yekaterinburg is rather compact. This doesn't mean there is nothing to see, though: Yekaterinburg is one of the rare cities where suburbs are no less worth visiting. It is in the suburbs that you find the real gems of the Soviet Constructivist architecture.
Yeltsin Center
Boris Yeltsin Presidential Center, a museum and a public space, was built in Yekaterinburg in the end of 2015 according to the project of Bernaskoni bureau. Inside, you'll find an aparthotel with a presidential suite, several restaurants, a movie club, a coworking space, an auditorium, an art gallery and a retail space, not to mention a museum with 30,000 objects and 130,000 photos. Yeltsin's political persona might be controversial but the center named after him has admittedly revolutionized the city community. Today, it is a place for topical talks, best exhibitions, and experimental movie screenings. The admission is often free.
Chekist Town
In 1920-1930 a whole team of architects from the capital was working in the city that was then called Sverdlovsk. As a result, the city was literally filled with monuments of Constructivism: there is more than a hundred of them here. Constructivist buildings form the whole blocks, the most famous of which was nicknamed the Chekist Town. Apart from five-storey residential buildings, it includes Iset Hotel (that is used only occasionally, for example, to host the Third Urals Industrial Biennale) and Urals Local History Museum which is the home of the oldest known wooden sculpture in the world called Shigir Idol, or Shigir Sculpture. The Chekist Town is also known for its legendary Soviet restaurant called "Fabrika-kuhnya" (meaning factory-kitchen) that serves Uralian pelmeni under the shining metal covers.
Vysotsky
Vysotsky is the name of a 50-storey skyscraper with a panorama platform. The name is a wordplay: it refers both to Vladimir Vysotsky, the famous singer-songwriter, poet and actor, and the height of the building (vysota literally means height). Vysotsky's family officially allowed the tower to bear the poet's name, and to accord with it, there is a museum in the building dedicated to him. Before the construction of the Lakhta Center in Saint-Petersburg, Vysotsky was the furthest northern skyscraper in the world. Apart from the panorama platform and the name, the tower is not particularly remarkable, although the panorama restaurant called Panorama A.S.P. and the spa-center Eco Spa with a swimming pool featuring a scenic view of the city may be worth a visit.
Yekaterinburg Museum of Fine Arts
In July 1941, two secret special trains with the evacuated pieces from the Hermitage Museum arrived in Sverdlovsk. Pictures by Leonardo da Vinci, Raphael, Titian, Rubens, Rembrandt, Velasquez, Roman and Ancient Greek sculptures, pieces by Jean-Antoine Houdon and Antonio Canova, were sent to the Urals to keep them safe. As a thank you, the city received more than a hundred masterpieces from the Hermitage Museum that are now on display in the building of the Museum of Fine Arts in 11 Vainer street. The Museum's second building, the one on the embankment, showcases examples of Urals artworks in cast-iron, the Kasli pavilion built for the 1900 Exposition Universelle, and a number of works by Russian avant-garde artists of 1910-1920.
The White Tower
The end of the 1920s was the time of the active construction of the Uralmash plant and the sotsgorod — a type of virtually independent Soviet neighborhood on the outskirts of Sverdlovsk. First, the water was brought in by horsepower but by 1931 the water tower had been built. It was constructed according to the project of Moisei Reisher, one of the architects of the City Hall building. The tower is covered with white limewash and consists of a prismatic staircase plate and a cylindrical tank elevated on four pillars. After a long period of post-Soviet abandonment, in 2012 the local arch-group "Podelniki" (Russian for cronies or partners in crime) took the building under protection. Today they organize tours and exhibitions inside the tower, create video installations inside the tank, host poetry readings, and carry an ongoing crowdfunding campaign to keep the monument alive and well.
City pond
City pond is a reservoir on the Iset River right in the city center. Its embankment, with Plotinka (diminutive for the pond's dam, plotina) on the one side and Makarov bridge on the other, features a boat-like building of the Constructivist-style sports center "Dinamo" and a square in front of the drama theater across it. Local skaters call the route around it 'the Urals Round-the-World Cruise.' The tour around the pond will take about an hour. En route you'll see the main skating spot, street musicians in the tunnel, summer cafes, and street-food stands, street art and a quay for boat-rides. The locals love the pond and recently have proved it by opposing the construction of a church on an artificial island planned by the regional government.
Transport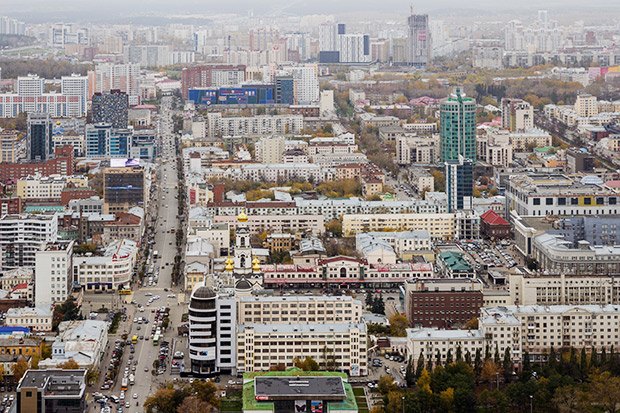 Taxi and car-sharing
In Yekaterinburg, you can you all major taxi services, including Yandex.Taxi, Uber, Gett, Wheely, and Maxim, as well as a car-sharing service "Delimobil". Taxi is perfect for moving around the city center: off-rush hour, a ride will cost around 100 RUR. With no traffic jams, a ride from the city center to the Koltsovo airport will take around half an hour. On workdays mornings and early evenings, budget an hour to be safe. It's still a challenge to find a taxi with a child seat so if you're traveling with kids consider using Yandex.Taxi that has a special offer for people with children.
Subway
Although small, subway is convenient if you want to shorten the walk around the city center. For example, you can start at the "Dinamo" station near the City Pond and go via the central "Ploschad 1905 goda" to "Geologicheskaya" station to check out the biggest mall of the city, "Greenwich", that takes several blocks. If you go one stop further "Geologicheskaya", you'll get to the newest station, "Botanicheskaya", from which you can then go to the waterpark "Limpopo." Going the other way, from "Dinamo" to "Uralmash", you will quickly get to the White Tower. You can't, however, take the subway to the Central Stadium.
Tram, bus, trolleybus
The fare for the tram, bus or trolleybus, as well as for the subway, is 28 RUR. Recently the city introduced the contactless payment system so you can use your Apple Pay to pay for the ride. To save some money, you can buy the city transport card called "Ekarta". It has quite flexible rates: choose between an unlimited number of rides for a month on one or two types of transport (1,950-2,200 RUR), or a three-day unlimited ticket for all types of transport (from 390 RUR). The card is sold in Rospechat stands (which basically means newspaper stands), at the post offices, in subway fare boxes, and at money transfer offices "Frisbee." To check the routes, use Маршрут.Екатеринбург.рф website and its mobile version on Hubb.
Where to eat
Address: Pushkina street, 12
Phone: +7 (343) 287–30–10
Open: 12 p.m. to 10 p.m.
Chefs Vladimir Olkinitsky and Shakir Uldashev, also known as the Urals Cuisine Rebels (the official name of the duo), opened a modern variation of a traditional pelmennaya (a bistro serving pelmeni). "Zames" (12 Pushkina street and 5 Lenina avenue) offers jack pike and three-meats pelmeni, pelmeni in Carbonara sauce, bird-cherry dumplings vareninki, and traditional Perm pastry, posikunchiki. Here, you choose your food and beverages at the cash desk, and they will be served in paper plates and cups when ready. When the order is ready it will be announced through a speaker.
Address: Lenina avenue, 69/1
Phone: +7 (343) 271–03–51
Open: Mon-Thu: 11 a.m. to 9 p.m.; Fri-Sat: 11 a.m. to 9.30 p.m.; Sun: 12 p.m. to 9 p.m.
A fast food restaurant that serves the famous Urals pelmeni made of three types of meat under shining plate covers. Located in the Iset Hotel building, it is a part of the Constructivist-style Chekist Town. Before, this place was known as a legendary Soviet restaurant "The Urals Pelmeni", and the new venue has only updated the interior and changed the name. It's a place to have a cheap lunch, to order a shot of vodka with borsch, have the signature herbal tea with blini, work on your laptop and buy some branded merchandise like a rolling pin or an apron with the "Fabrika-kuhnya" inscription.
Address: Karl Liebknecht street, 38a
Phone: +7 (343) 317–18–27
Open: Mon-Thu: 12 p.m. to 12 a.m.; Fri: 12 p.m. to 2 a.m.; Sat: 1 p.m. to 2 a.m.; Sun: 1 p.m. to 12 a.m.
The pan-Asian restaurant Momo is adjacent to the Sverdlovsk Philharmonic: go past the central entrance to the left and go down the broad staircase. Here, the cooks experiment with seafood from the Far East offering Japanese moti desserts made of hibiscus-colored dough and filled with cream, Hawaiian sea bass or salmon poke and all types of crabs. If you order a Tom Yum soup, be ready for a little show: some coconut milk will be first frozen in liquid nitrogen and then poured into your plate with smoke and other special effects.
Address: Lenina avenue, 41
Open: Mon-Fri: 10 a.m. to 12 a.m.; Sat-Sun: 10 a.m. to 1 a.m.
Vietnamese chef An Nguen is a local gastronomy rockstar. After graduating from the School of International Studies at the Ural Federal University, with support from a local diaspora he opened a national restaurant that in a few years has grown into a prosperous chain. It offers traditional pho bo soups, nems, and various noodles. The central Vietmon on Lenina avenue focused on the exotics: eel found in rice field channels, salads with jellyfish, fried frogs, and banana blossoms, fried snails with lemongrass, and national dried rice. Recently An also launched a street-food cafe "Banh Mi" serving pho bo and Vietnamese buns: banh-mi and banh-bao.
Address: 8th March street, 4
Phone: +7 (343) 372–00–39
Open: Mon-Thu: 8 a.m. to 12 a.m.; Fri-Sat: 8 a.m. to 2 a.m.; Sun: 8 a.m. to 12 a.m.
According to their own description, "Gastroli" offers 'complicated but fascinating food'. From 8 am onwards, you can have poached eggs Benedict with salmon, shakshuka or a Turkish-style scramble with a glass of sparkling wine for breakfast. The restaurant offers lamb and suckling goatling kofta cooked in the oven, pastrami sandwiches, signature burgers, baked eggplant with za'atar and hummus, tartars and carpaccios. You can get pizza, too — for example, with pear and blue cheese or with artichoke and mozzarella. On weekends, dinners on the veranda turn into picnics on the grass. Come for the food and stay for a dance party at the bar "Shalom, Shanghai" conveniently located in the basement.
Address: Lenina avenue, 26
Phone: +7 (343) 222–19–05
Open: 24/7
A restaurant in the Yekaterinburg's first building (in 1737 it was the headquarters of the Metal Works Central Directorate) is a rescue for those who party all night long. While most of the restaurants in the city close after midnight, Mamma's Big House works 24/7. The food here is European-style and affordable, but the menu mostly focuses on small plates: bruschettas, various pancakes, early breakfasts, steaks, pizza, and signature cakes. Besides Mamma's, there are other restaurants of the same chain that work 24/7, namely Bukowski Grill for meat lovers and an Italian restaurant Donna Olivia.
Where to drink
Address: 8th March street, 14
Phone: +7 (912) 626–77–53
Open: Sun-Wed: 8 p.m. to 12 a.m.; Thu: 8 p.m. to 2 a.m.; Fri-Sat: 8 p.m. to 5 a.m.
A tiny Saint-Petersburg-style place totally living up to its name (literally meaning misanthropist). You can wait for a cocktail for a good hour and a half but you will get drunk anyway, along with the city's hippest folks.
"Shalom, Shanghai" Dance Bar
Address: 8th March street, 4 – entrance through "Gastroli" restaurant
Phone: +7 (912) 206–33–93
Open: Tue-Thu: 6 p.m. to 2 a.m.; Fri-Sat: 6 p.m. to 5 a.m.
Another secret bar, this one with an Asian focus. Despite the name, "Shalom, Shanghai" doesn't offer Jewish food. The laconic menu was inspired by Asian hawkers' classics. It has steamed soft bao buns, banh-mi sandwiches, jerky-like bak kwa pork, sticky ribs, crispy Sichuan eggplants, two varieties of tartar, ceviche, nems, lotus root chips and tom kha soup. The bar also offers gins on Sichuan pepper and tamarind, lavender, mango, acai berries and Thai blue tea, as well as many other things.
Address: Malysheva street, 21/4
Phone: +7 (922) 198–92–22
Open: Mon-Thu: 5 p.m. to 12 a.m.; Fri: 5 p.m. to 2 a.m.; Sat: 3 p.m. to 2 a.m.; Sun: 3 p.m. to 12 a.m.
The most popular craft beer bar in the city. Offers around 300 varieties of bottled beer and 30 varieties on tap, both from celebrated Russian and international breweries and from promising debutants. As for snacks, try artisanal cheese, nut mixes, and fish or dried pear, and roast beef sandwiches (250 RUR). The locals also recommend trying marinated quail eggs.
Address: Malysheva street,61
Phone: +7 (922) 170–67–68
Open: Sun-Thu: 12 p.m. to 12 a.m.; Fri-Sat: 12 p.m. to 2 a.m.
A two-storey wine bar for around 50 people with wine boxes you can sit on when it's crowded. The bar targets young audience so the interior is lacking all the classical pompous features of a wine bar. The wine list has many unusual items, the price for a glass of wine (125 ml) starts at 200 RUR. For appetizers, the bar offers cheeses, bruschettas, pates, and other spreads.
Souvenirs
Urals Clothing
Ural is a street-fashion brand, originally from Yekaterinburg but known far beyond it. A sweatshirt, a T-shirt or a balaclava with the inscription 'Ural' or 'Sverdlovsk' is a must-have for anybody who has ever been to the Ural's capital.
Moonswoon Jewelry
Designer Olya Lokshina creates minimalistic and affordable jewelry using uralian minerals. You can buy them in "Sakharok" shop in Moscow, in the brand's own shop in Yekaterinburg, or online. The brand's jewelry combines silver with lazuli, opals, green malachite, or rock crystal.
Made in Ural Souvenirs
Made in Ural is a community of designers who took part in creating Yekaterinburg's official logo. In the city's souvenir shops — in Yeltsin Center, for instance — you can buy T-shirts with Ural forests mosquitoes, "Ural" motorcycle or a portrait of a famous fairy-tale writer Bazhov, as well as mugs, postcards, and other small things inspired by the mountain region.
Old Ekb Pins
Dmitry Fathiev-Dolohov preserves the city's architectural history in his own way by creating colored enamel metal badges dedicated to the local monuments. The series presents badges with the building of the Central Post Office, the TV tower destroyed in March 2018, Metenkov's photostore, the building of sports center "Dinamo", Iset Hotel, and other monuments.
---
Visitor center
Address: 8th March street, 21
Phone: +7 (343) 222–24–45
DOWNLOAD offline route around Yekaterinburg for MAPS.ME
---
Читайте также:
Kazan
A city with a thousand year history, incredible national flavor, elesh and top bars
Kazan
A city with a thousand year history, incredible national flavor, elesh and top bars
Kazan
A city with a thousand year history, incredible national flavor, elesh and top bars
Kazan
A city with a thousand year history, incredible national flavor, elesh and top bars