Modern Russian cuisine in Moscow: A tourist guide of where to eat 12 great places. Quality guaranteed.
Modern Russian cuisine is an attempt to rethink traditional dishes using local products, new recipes, and technologies. The search for a Russian taste and an effort to take a fresh look at the usual dishes, like porridge, pelmeni (dumplings) and borsch, creates interesting combinations and ways of servings opening up local products from a new side. The Village tells about 12 restaurants with Russian cuisine definitely worth of a visit.
We do not advise you to visit any Russian chain cafe, seriously. "Teremok" is an exception. This is Russia's main pancake house not to be ashamed of. The menu includes more than two dozen sweet and savory pancakes, as well as porridge, soups and salads. Worth visiting for pancakes, take-out or eat-in.
ADDRESS: Tverskoy blvd, 26A
OPEN: 00:00 a.m. — 00:00 a.m.
AVERAGE BILL: 2500 roubles
In the past 20 years, restaurant "Pushkin" on Tverskoy Boulevard has become a true legend — it seems like this is the most stable thing in the country. The chef has been working here longer than Putin in the Kremlin: the menu and the management have not changed since 1999. Traditional pelmeni (dumplings), blinis (crêpes), borsch, as well as desserts with a French touch make this place one of the main Moscow attractions.
ADDRESS: Smolenskaya square, 3
OPEN: Sun-Wed 12:00 p.m. — 00:00 a.m., Thu-Sat 12:00 p.m. - 02:00 a.m.
AVERAGE BILL: 3000 roubles
Since 2015, White Rabbit has been steadily on the list of The World's 50 Best Restaurants. This is one of the main gastronomic restaurants of the city. Chef Vladimir Mukhin likes reinvents modern Russian cuisine using local products. He is constantly traveling around Russia in search of interesting recipes and ingredients. Be sure to try cocolardo (coconut pulp cooked like homemade salo — pork fat), beetroot soup with cherry, rye-bread dessert and ice-cream made of ryazhenka and sour cream.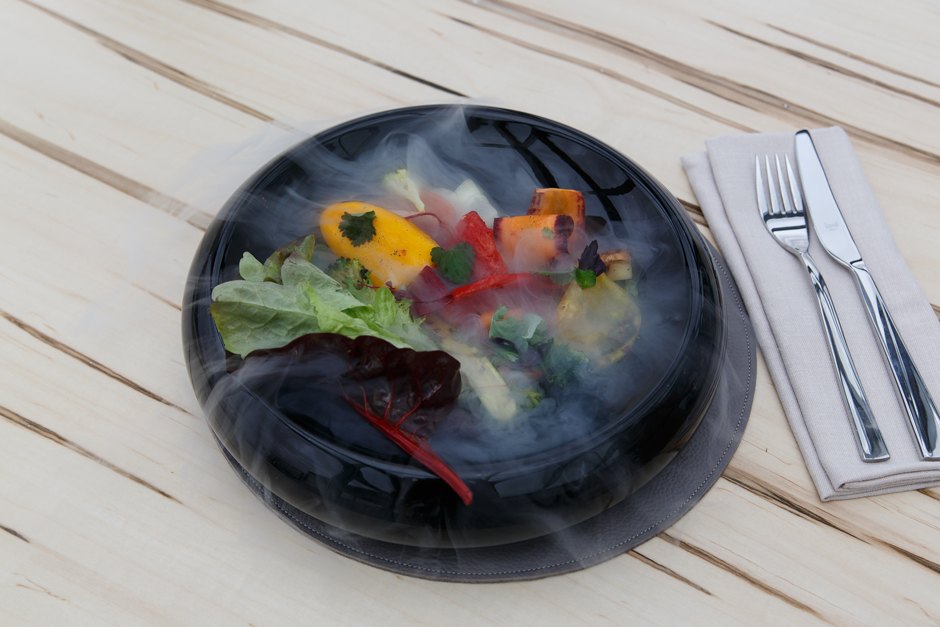 ADDRESS: Mokhovaya street, 15/1
OPEN: 00:00 — 00:00
AVERAGE BILL: 1500 roubles
A luxury restaurant overlooking Red Square in the Stalinist Empire style. Snow-white tablecloths, red sculptures of pioneers and waitresses wearing aprons and scarlet lipstick will make you feel the vibe of a festive Soviet DK (community centre). Traditional USSR era cuisine is well-represented here — Russian salad (Olivier), dumplings, dressed herring. Of course, vodka and liqueurs are on the drinks menu.
ADDRESS: Petrovka street, 21/2
OPEN: Mon 6.00 p.m. - 12.00 a.m., Tue-Thur, Sun 12.00 p.m. - 12.00 a.m., Fr-Sat 12.00 p.m. - 01.00 a.m.
AVERAGE BILL: 2000 roubles
Another auteur's vision of a modern Russian cuisine — Lavka Lavka — is one of the first restaurants that started working exclusively with local and seasonal farm products. The menu changes several times a year, depending on what is in season. Particular attention is paid to vegetables and root crops, meat is purchased exclusively from local farmers, so everyone can find something for themselves.
ADDRESS: Strastnoy blvd, 8A
OPEN: 12:00 p.m. — 00:00 a.m.
AVERAGE BILL: 2500 roubles
Tsvetnoy Boulevard's pride — the restaurant of twin-chefs Berezutsky. In addition to a very impressive wine list, the brothers almost completely provide the restaurant with products from their own farm near Moscow — vegetables, homemade cheeses, and even fish. Berezutsky are known for their original haute cuisine, the brightness of colors in the plate and a special love for diverse textures. Book your table in advance.
АDDRESS: Rochdelskaya street, 15 bld 41
OPEN: 12:00 p.m. — 00:00 a.m.
AVERAGE BILL: 2000 roubles
Recently opened at Trekhgornaya Manufacture, the restaurant that is famous for Russian ovens and dishes cooked in them - if not entirely, then at least partially. Chef Yevgeny Alfan has studied old recipes and cooking in stoves from village grandmothers for several months, so it turned out quite authentic. It is definitely worth paying attention to hemp porridge, cucumber porridge with egg, and varenets (a unique kefir-style dairy product). Be sure to ask for the local baked milk - you won't regret trying it. Interesting and noteworthy if you are ready to experiment.
ADDRESS: Smolenskaya street, 7-8
OPEN: 12:00 p.m. — 00:00 a.m.
AVERAGE BILL: 1500 roubles
Originally a business from Novosibirsk, this restaurant managed to conquer the city in the shortest time possible and is at risk of becoming the main pillar of the Russian cuisine. The menu includes traditional dishes of the Soviet era and imperial Russia, with a modern twist. SibirSibir has proved that traditional food does not necessarily have to be all mayonnaise and fat but can keep the flavors, understandable and familiar to a Russian.
ADDRESS: 1st Krasnogvardejsky pr-d, 21 bld 2
OPEN: 12:00 p.m. — 00:00 a.m.
AVERAGE BILL: 2500 roubles
Another restaurant with a real Russian oven on the 85 floor of Moscow City — a description that should already speak for itself. Ruski is an auteur rethinking of traditional Russian dishes with a search for new combinations. Not necessarily outstandingly delicious, but definitely beautiful.
ADDRESS: Bolshaya Nikitskaya street, 12
OPEN: 09:00 a.m. — 00:00 a.m.
AVERAGE BILL: 2500 roubles
Severyane does not position itself as a restaurant of Russian cuisine, however, they cook here in the oven, and work mainly with local products, which makes it a priori Russian. A talented young chef George Troyan is especially good at working with buckwheat, so make sure you check out their breakfast, which is served daily until 4:00 p.m.
ADDRESS: Rublevo-Uspenskoye hwy, Zhukovka village, 186A
OPEN: 12:00 p.m. — 00:00 a.m.
AVERAGE BILL: 4000 roubles
Ever since the late 90s this expensive restaurant in the suburbs of Moscow have been serving legendary small pies. Stylized as a Russian hut, with a wood stove and game on the menu, the place fully justifies the name. One of the oldest restaurants that has been popular for twenty years already.
ADDRESS: Kutuzovski avenue, 2/1, building. 6
OPEN: 08:00 a.m. — 00:00 a.m.
AVERAGE BILL: 2500 roubles
The second Russian restaurant of "Pushkin"'s owner Andrey Dellos. The cuisine here is slightly less traditional, with the auteur approach of chef Vlad Piskunov. The menu includes local fish, pickles, pancakes and homemade jam — in fact everything that a foreigner has to try in Russia.
DOWNLOAD offline route around Moscow's restaurants for MAPS.ME
---
Pictures: cover — Ivan Annenkov, 1 — White Rabbit, 2, 3 — Ksyusha Kolesnikova, 4 — Yaroslava Garkushenko
Читайте также:
WorldCup-eng
Moscow: Basic Things You Need to Know
Explore Stalin-era skyscrapers, noisy parks, bars serving infusions, and ancient convents all in one city
WorldCup-eng
Moscow: Basic Things You Need to Know

Explore Stalin-era skyscrapers, noisy parks, bars serving infusions, and ancient convents all in one city
WorldCup-eng
Moscow: Basic Things You Need to Know
Explore Stalin-era skyscrapers, noisy parks, bars serving infusions, and ancient convents all in one city
WorldCup-eng
Moscow: Basic Things You Need to Know

Explore Stalin-era skyscrapers, noisy parks, bars serving infusions, and ancient convents all in one city
WorldCup-eng
Volgograd

Express trams, wide avenues, and tragic memory of the past
WorldCup-eng
Moscow: Basic Things You Need to Know
Explore Stalin-era skyscrapers, noisy parks, bars serving infusions, and ancient convents all in one city
WorldCup-eng
Moscow: Basic Things You Need to Know

Explore Stalin-era skyscrapers, noisy parks, bars serving infusions, and ancient convents all in one city